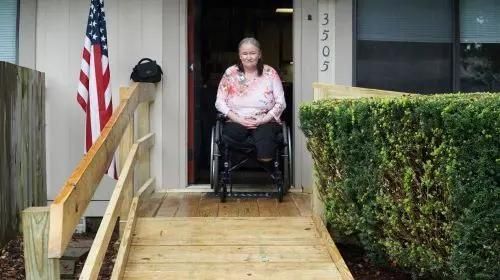 Since 2017, Nicole Broaddus has had a routine for when she needed to leave her home by herself.
Nicole, who is a double leg amputee, would leave her northside Columbus apartment by crawling through the door and down her apartment stairs while dragging her wheelchair behind her.
Leaving the apartment alone was so strenuous, she rarely bothered. Doctor's appointments were the only times she felt the need to make the long trek from her apartment to her car without assistance.
"It was my only way in or out," she said. "I could get in and out myself, but it was a struggle to do so."
Thanks to two days of hard work from 17 volunteers from Faurecia and the United Way of Bartholomew County, Nicole has a new accessible ramp outside her apartment that will make it easier and safer for her to leave her Columbus home.
"I am able to get in and out myself. I can be more independent," she said.
The Faurecia Foundation and United Way of Bartholomew County are on a mission to help Bartholomew County residents like Nicole with the recently formed Ramp Up with United Way program. Ramp Up with United Way is an initiative to build accessibility ramps for people in our community who have a mobility impairment or who use wheelchairs.
Each ramp will be built by volunteers who are knowledgeable with ADA requirements. This new program is meant to accommodate a broad range of physical needs and requirements and to reduce the risk of falling and help maintain independence for our neighbors who have physical impairments.
Nicole, 42, has been grappling with her life as a double amputee since 2017, when both her legs were amputated because of infections following surgery.  She heard about ramps that were built during United Way's annual Day of Caring and applied for a ramp to be built at her home.
With her new ramp, Nicole is now comfortable leaving her apartment more to go shopping or to visit friends and family.
"Now that I can get out better, I will go out more places," she said. "United Way and Faurecia have been awesome, I couldn't ask for a better program."